Review
Open Access
Open Peer Review
This article has Open Peer Review reports available.
Programa Geração Biz, Mozambique: how did this adolescent health initiative grow from a pilot to a national programme, and what did it achieve?
Reproductive Health
2015
12:12
Received: 9 September 2014
Accepted: 15 January 2015
Published: 17 February 2015
Abstract
Adolescent sexual and reproductive health gained particular traction in Mozambique following the 1994 International Conference on Population and Development leading to the inception of Programa Geração Biz (PGB), a multi-sectoral initiative that was piloted starting in 1999 and fully scaled-up to all provinces by 2007. We conducted a systematic review of the literature to gather information on PGB and analyzed how it planned and managed the scale-up effort using the WHO-ExpandNet framework. PGB's activities comprised a clear and credible innovation. Appropriate resource and user organizations further facilitated national scale-up. Challenges relating to the complex nature of the multi-sectoral approach and resistance due to norms about adolescent sexual and reproductive health hindered scaling-up in some geographic areas. The national government exhibited commitment and ownership to PGB through budgetary support and integration into multiple policies. This study adds to the documentation of successful scaling-up strategies that can provide guidance for policy makers and programme managers.
Keywords
Reproductive HealthUser OrganizationYouth Friendly Health ServiceYouth AssociationSwedish International Development Agency
Introduction
This paper describes the inception and nationwide scale up of Programa Geração Biza (PGB), a multicomponent initiative aimed at improving the sexual and reproductive health of adolescents in Mozambique; analyzes what helped and hindered the scale up effort; and sets out the results achieved at the programme, health behaviours, and health outcomes levels.
PGB has achieved what many other adolescent sexual and reproductive health (ASRH) programmes in Africa have not i.e. large scale and sustained scale up of a complementary set of interventions. While a number of descriptions of the PGB and its achievements have been published [1–5] and its scale up process has been briefly examined in the context of a larger five-country comparison [6], there is a need to further analyze its scale up and the context in which that scale up occurred. The objective of this analysis is to inform policy makers, programme managers and international organizations operating in Africa and elsewhere about a successful initiative and how it was realized, with the hope that it will inspire those who are working hard to move beyond small-scale and short-lived projects.
This paper has two objectives – firstly to examine what factors helped and hindered the scale up of PGB, and secondly to examine what was achieved as a result of this programme.
Methods
We gathered reports about PGB from UN agencies and Pathfinder International that describe the conception, inception, phased implementation, and monitoring and evaluation of the initiative. In addition, we carried out a systematic review of the literature on ASRH in Mozambique for information on the context in which these activities took place. In order to identify peer-reviewed literature, we used six academic databases including Scopus, Popline, PubMed, CINAHL, Embase, and African Index Medicus using combinations of search terms including "Mozambique," "adolescent," "youth," "young," "reproductive," "sexual," and "sex."
Our searches of the academic databases yielded 630 unique citations. We reviewed all 630 titles and abstracts for pertinence to ASRH in Mozambique and selected 39 for full text review according to the following criteria:
 Original research conducted in Mozambique or secondary data analysis published in a peer-reviewed journal;

 Examines sexual and reproductive health knowledge, attitudes, behaviour, or outcomes or describes a sexual and reproductive health intervention

 Adolescents are the primary study population or results are reported separately for adolescents

 Full text available in English
Of the 39 full text articles, reviewed 22 were relevant and are included in this paper. These papers describe the state of ASRH in Mozambique prior to the inception of PGB (n = 5), during PGB scale-up (n = 6) and after scale-up (n = 3). In addition, several papers report on other ASRH interventions implemented in Mozambique (n = 5) or on PGB itself (n = 3).
We were able to get numerous reports and programme evaluations and have referenced them throughout this paper. These include narrative descriptions of PGB's design and implementation process [1, 3, 4] as well as reports from evaluations that were conducted over the years [7–9].
We examined the planning and management of PGB's scaling-up process using the WHO-ExpandNet Framework. The Framework strives to improve the planning and management of the process of scaling-up of successful pilot programmes with a focus on sexual and reproductive health, making it particularly suited for an analysis of the scale-up of PGB. The Framework provides a series of recommendations for programme planning and management in order to successfully scale-up programmes [
10
]. According to the Framework, success of the scaling-up strategy is determined by multiple interacting factors (Figure
1
). Effectiveness of a scaling-up strategy depends on the characteristics of the innovation to be scaled up, as well as the characteristics of the resource team and the user organization, each of which is influenced by the environment in which they operate. Successful management of the scaling-up process requires attention to four strategic choice areas - dissemination and advocacy, organizational processes, resource mobilization, and monitoring and evaluation. We examine each of these areas in turn with reference to PGB.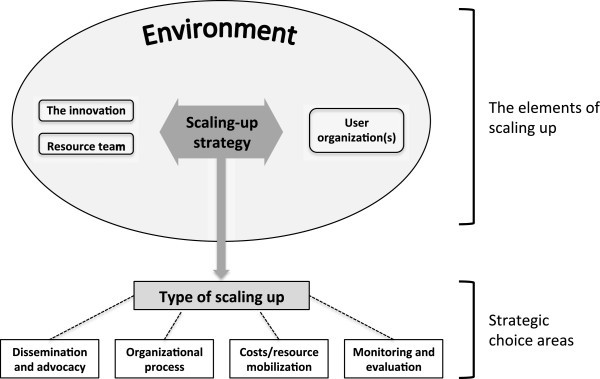 Discussion
In our review of Programme reports and evaluations we found that many elements of PGB were planned and implemented in ways that optimally situated it for successful scaling up. The momentum from the ICPD translated to a priority within the Mozambican Government to form policies that promoted ASRH. The design of the Programme and the package of PGB activities came out of this agenda and formed an innovation that was clear and credible, though there were difficulties in relation to compatibility with local norms and ease of installation, due to the complex multisectoral nature of PGB. Successful management and scale-up can be credited to a cohesive resource team that supported the national and sub-national agencies that served as the user organizations. UNFPA and Pathfinder International built capacity within the Ministries of Health, Education, and Youth and Sports so that they could implement Programme activities within their respective sectors. The three Ministries demonstrated some commitment through integrated policies and budgetary allocations. The vertical and horizontal scaling up of PGB was undertaken deliberately through coordinated action on multiple levels of governance and within each of the three participating Ministries. Furthermore, efforts were made throughout the scale-up to document progress through M&E.
The multisectoral approach was entirely appropriate to address ASRH in the Mozambican context and may translate well to other settings. Adolescents were reached in clinics, schools, and communities—settings that are important for young people globally. In Mozambique, the three Ministries that had expertise in providing services in each of these three settings were identified and their unique capacities were leveraged and enhanced. While the multisectoral strategy can draw on these strengths, it also requires commitment of adequate resources to build capacity and provide linkages and coordination between sectors at every level of implementation. This support can be provided by international NGOs and UN agencies but efforts should be made to build government capacity and gradually transition to independent implementation.
The WHO-ExpandNet framework provides a valuable tool for identifying elements of programmes that contribute to or impede successful scaling up. In the case of PGB we found that the management structures and systems that were put in place contributed to successful implementation of a multicomponent intervention by taking advantage of the unique strengths of three different Ministries, which acted as user organizations. Furthermore, gradual horizontal and vertical scaling up was successful due to deliberate efforts to build capacity and institutionalize aspects of the Programme. Furthermore, close attention was paid to monitoring and evaluation so that operations could be modified as challenges arose in the process of scaling up. External evaluations, which were conducted periodically, served as feedback mechanisms and led to improvements within these internal M&E systems.
While PGB appears to have successfully provided SRH information and services to many adolescents in Mozambique, it did not sufficiently address social norms that likely contribute to ASRH outcomes. Concerns relating to gender equity were raised in routine monitoring when it was found that adolescent boys outnumbered girls among PGB peer educators [26]. While modifications were made specifically to the peer-education training protocol to address this issue [26], more could have been done, especially with families and communities, to address social norms about gender and SRH. Inadequate gender sensitivity may have contributed to the limited effect PGB had on preventing unprotected sexual activity in girls.
There are some limitations to this analysis that should be noted. Evaluation reports of PGB exist largely in the grey literature. Much of our assessment of Programme implementation and outcomes relies on these reports as well as ancillary studies that were not intended to directly evaluate PGB. Despite this limitation, we feel that there is ample evidence to facilitate a discussion of the processes of PGB planning, implementation, and scale up. This paper adds to the evidence for successful programmatic elements of planning for scale-up of ASRH programmes, which includes documentation of the scaling up of comprehensive sexuality education in Nigeria [42]. Furthermore, lessons from the successes and challenges can be used in the planning of future large-scale public health interventions.
Endnote
aIn Portugese, geração biz is slang for "busy generation."
Authors' Affiliations
(1)
Department of Reproductive Health and Research, World Health Organization, Geneva, Switzerland
(2)
Department of Population, Family and Reproductive Health, Johns Hopkins Bloomberg School of Public Health, Baltimore, USA
(3)
Pathfinder International, Maputo, Mozambique
(4)
Government of Mozambique Ministry of Health, Maputo, Mozambique
Copyright
© Chandra-Mouli et al.; licensee BioMed Central. 2015
This article is published under license to BioMed Central Ltd. This is an Open Access article distributed under the terms of the Creative Commons Attribution License (http://creativecommons.org/licenses/by/4.0), which permits unrestricted use, distribution, and reproduction in any medium, provided the original work is properly credited. The Creative Commons Public Domain Dedication waiver (http://creativecommons.org/publicdomain/zero/1.0/) applies to the data made available in this article, unless otherwise stated.