Evidence from facility level inputs to improve quality of care for maternal and newborn health: interventions and findings
Reproductive Health
2014
11(Suppl 2):S4
Published: 4 September 2014
Abstract
Most of the maternal and newborn deaths occur at birth or within 24 hours of birth. Therefore, essential lifesaving interventions need to be delivered at basic or comprehensive emergency obstetric care facilities. Facilities provide complex interventions including advice on referrals, post discharge care, long-term management of chronic conditions along with staff training, managerial and administrative support to other facilities. This paper reviews the effectiveness of facility level inputs for improving maternal and newborn health outcomes. We considered all available systematic reviews published before May 2013 on the pre-defined facility level interventions and included 32 systematic reviews.
Findings suggest that additional social support during pregnancy and labour significantly decreased the risk of antenatal hospital admission, intrapartum analgesia, dissatisfaction, labour duration, cesarean delivery and instrumental vaginal birth. However, it did not have any impact on pregnancy outcomes. Continued midwifery care from early pregnancy to postpartum period was associated with reduced medical procedures during labour and shorter length of stay. Facility based stress training and management interventions to maintain well performing and motivated workforce, significantly reduced job stress and improved job satisfaction while the interventions tailored to address identified barriers to change improved the desired practice. We found limited and inconclusive evidence for the impacts of physical environment, exit interviews and organizational culture modifications.
At the facility level, specialized midwifery teams and social support during pregnancy and labour have demonstrated conclusive benefits in improving maternal newborn health outcomes. However, the generalizability of these findings is limited to high income countries. Future programs in resource limited settings should utilize these findings to implement relevant interventions tailored to their needs.
Keywords
Facility
maternal
newborn
quality of care
obstetric care
delivery
social support
staffing
Background
Most of the maternal and newborn deaths occur at birth or within 24 hours of birth; therefore essential lifesaving interventions need to be delivered at basic or comprehensive emergency obstetric and newborn care (BEmONC /CEmONC) facilities [
1
–
4
]. Facilities provide critical emergency care during labor and delivery, hence strengthening health facilities and referral linkages between communities and facilities is vital. Facilities should be equipped with commodities and skilled personnel to provide minimum required standard care for women and newborns in need of obstetric and special care. They should be able to provide the defined minimal 'signal functions' that are the key interventions for treating vast majority of maternal complications and for resuscitation of the newborn after birth (Table
1
) [
5
]. The list of signal functions is not exhaustive but these functions serve as indicators of the level of care being provided. It is estimated that providing these essential interventions at scale (over 90% coverage) in communities and facilities can reduce the neonatal mortality rate by 70% [
6
,
7
]. Although facility-based care during childbirth typically requires more resources than home-based care, it is often more cost-effective in preventing deaths [
8
].
Table 1
Signal functions used to identify basic and comprehensive emergency obstetric care services
Basic services

Comprehensive services

(1) Administer parenteral antibiotics

Perform signal functions 1–7, plus:

(2) Administer uterotonic drugs (i.e. parenteral oxytocin)

(8) Perform surgery (e.g. caesarean section)

(3) Administer parenteral anticonvulsants for preeclampsia and eclampsia (i.e. magnesium sulfate).

(9) Perform blood transfusion

(4) Manually remove the placenta

(5) Remove retained products (e.g. manual vacuum extraction, dilation and curettage)

(6) Perform assisted vaginal delivery (e.g. vacuum extraction, forceps delivery)

(7) Perform basic neonatal resuscitation (e.g. with bag and mask)

A basic emergency obstetric care facility is one in which all functions 1–7 are performed.

A comprehensive emergency obstetric care facility is one in which all functions 1–9 are performed.
Alongside emergency obstetric care; facilities provide complex clinical care interventions including referrals, post discharge care, long-term management of chronic conditions and managerial and administrative support to other facilities. They also serve as gateways for drugs and medical supplies, laboratory testing services, general procurement and data collection from health information systems. Facilities also disseminate technologies by training new staff and providing continuing professional education for existing staff at different facilities. In this review, we aim to systematically review and summarize the available evidence from relevant systematic reviews on the impacts of the outlined facility level inputs (Table
2
) to improve the quality of care for maternal and newborn health (MNH). For this review we have broadly categorized these interventions into four categories: interventions for well performing and motivated work force; interpersonal care and social support; safety culture; and staffing models.
Table 2
Components of facility level interventions
Well performing and motivated workforce: includes various strategies to manage and cope with job stress, managing dual practice among healthcare workers, exit interview and any structural or cultural modification in the healthcare environment.
Interpersonal care and social support: These are interventions provided by professionals or non-professionals aimed at improving psychological well-being of patients as well as healthcare workers. Pregnancy, perinatal deaths, childbirth and parenting are some of the specific phenomena that require continuous social support.
Safety culture: Facility based safety culture includes any intervention to enhance the safety of healthcare workers and patients in healthcare environment including hand hygiene promotion, interventions to reduce medication errors and preventive vaccinations for the health care professionals.
Staffing models: These are organizational interventions for staff management including skill, qualification or grade mix, maintaining staff-patient ratios and measures for improving collaboration between two or more health and/or social care professionals.
Facility level characteristics
Methods
We considered all available systematic reviews on the pre-defined facility level interventions published before May 2013 as outlined in our conceptual framework [32]. A separate search strategy was developed for each component using pre-identified broad keywords, medical subject heading (MeSH) and free text terms:[(Performance OR motivation OR support OR "social support" OR "interpersonal care" OR labour OR labor OR safety OR "safety culture" OR "environmental safety" "health professional" OR "health care worker" OR "healthcare professional*" OR "staffing models" OR "staffing ratios" OR "nurse-patient" OR staff* OR "skill mix"OR "human resource" AND "health" OR healthcare OR maternal OR mother OR child OR newborn OR "neonat*")]. Our priority was to select existing systematic reviews which fully or partly address apriori defined facility level interventions for improving quality of care for MNH. We excluded reviews pertaining to social support for drug abuse and chronic illneses. Reviews reporting impacts of shifting duty on physiological and biochemical indicators were also excluded as these were not included in the scope of our review. Search was conducted in the Cochrane library and Pubmed and reviews that met the inclusion criteria were selected and double data abstracted on a standardized abstraction sheet. Quality assessment of the included reviews was done using Assessment of Multiple Systematic Reviews (AMSTAR) criteria [33] as detailed in the paper 1 of this series [32]. Any disagreements between the primary abstractors were resolved by the third author. For the pre-identified interventions, which did not specifically report MNH outcomes, we have reported the impacts on other health outcomes as reported by the review authors. Estimates are reported as relative risks (RR), risk ratios (RR), risk differences (RD) or mean differences (MD) with 95 % confidence intervals (CI) where available. For detailed methodology please refer to paper 1 of the series [32].
Findings
We identified 352 potentially relevant review titles and included 32 eligible reviews after further evaluation of the abstracts and full texts; 12 reviews on various aspects of well performing and motivated workforce, 5 on social support, 9 on interventions to promote safety culture and 6 reviews on staffing models (Figure
1
). The overall quality of the reviews ranged from 2 to 10 with a median of 9.5 on the AMSTAR criteria.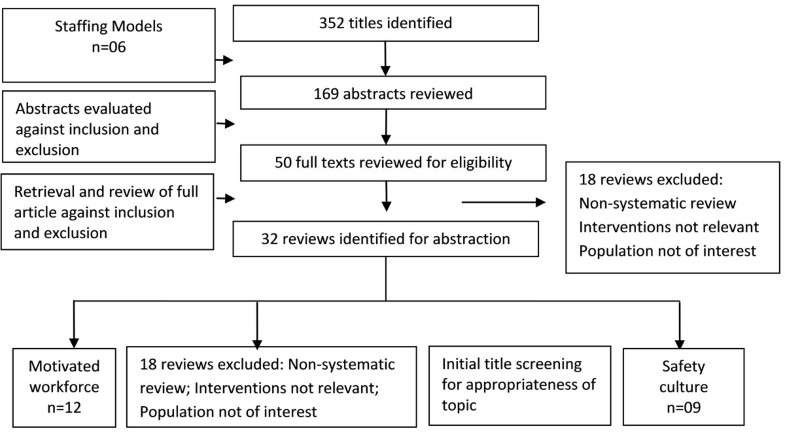 Discussion
At the facility level, evidence suggests that social support and specialized midwifery care throughout pregnancy, labour and postnatal period have the potential to improve a range of perinatal, maternal, and labor specific indicators. However, we did not find any impact of these interventions on delivery outcomes. Among the interventions targeted at healthcare workers, stress management trainings, multidisciplinary meetings and feedback sessions can reduce work related stress and improve performance. Programs to improve influenza vaccination uptake among healthcare workers resulted in improved vaccination coverage with evidence of being cost effective as well. We found limited and inconclusive evidence on the effectiveness of exit interviews and organizational environment and cultural modifications. Most of the data from these reviews pertain to HIC hence limiting the generalizability of these findings. Notwithstanding the lack of data from LMIC, interventions like support during pregnancy and labour are expected to be effective in all settings. Moreover, such interventions would work best in resource limited settings where advanced pain relief measures are not available. Lack of evidence from LMIC may be attributable to the weak existing health system infrastructure since most of these interventions require a pre-existing healthcare infrastructure to ensure scale-up and sustainability.
Facility level inputs and reported outcomes varied widely due to diverse and complex nature of interventions involved. These interventions are by and large aimed at improving general health outcomes and health workforce performance and MNH domain can also benefit from these findings. Many of these interventions including support during pregnancy and labour, staffing and skills mixing models, increasing available workforce, improving workforce performance and safety culture promotion can be tailored and directed to improve BEmONC and CEmONC facilities and their staff performances. Proven interventions to promote staff motivation can result in enhanced support and care during pregnancy and labor and consequently result in women's improved childbirth experience and confidence in the caregivers, which in itself is a determinant for positive pregnancy outcome [57]. Likewise, implementing standard guidelines for maternal and neonatal care can facilitate a systematic approach to evaluate and improve care provided by MNH services. It could lead to introducing routine clinical audits and enhance quality improvement processes within MNH facilities. Safety culture promotion in BEmONC and CEmONC facilities should aim at equipping them with adequate drugs, supplies and equipment for safe delivery as the quality of maternal care relies heavily on availability of functional equipment, supplies, drugs and blood for transfusion required during pregnancy and delivery.
There is a dearth of evidence on the facility level inputs from LMIC where most maternal and newborn mortality and morbidity is concentrated. There is also a need to describe individual components of the intervention and process measures in detail for reproducibility in resource limited settings. Policy makers in LMIC should focus on implementing these evidence based facility directed interventions to provide sufficient and skilled staff coupled with access to functioning equipment, drugs and supplies at the BEmONC/CEmONC facilities to provide timely and appropriate maternal and newborn care. This would consequently lead to reduced maternal and newborn mortality attributable to delayed treatment of obstetric complications.
Future studies should evaluate the effectiveness of structural and cultural changes, educational interventions, grade mix interventions, and staffing levels on workforce performance and patient outcomes. Determinants of healthcare worker performance, sustainability and cost-effectiveness should be evaluated using rigorous study designs. Further evidences are now needed to evaluate the best possible combination of strategies tailored to the need of the area of implementation.
Author contributions
All authors contributed to the process and writing of the manuscript.
Peer review
Peer review reports are included in Additional file 1.
Abbreviations
AMSTAR:

Assessment of Multiple Systematic Reviews
BEmONC:

Basic Emergency Obstetric and Newborn Care
CEmONC:

Comprehensive Emergency Obstetric and Newborn Care
CI:

Confidence Interval
LMIC:

Low- and Middle- Income Countries
MD:

Mean Difference
MNH:

Maternal Newborn Health
RD:

Risk Difference
RR:

Relative Risk
Declarations
Acknowledgements
This work was supported by a grant from the Maternal health Task Force (MHTF) at the Harvard School of Public Health. We would like to acknowledge Waleed Zahid who helped us in the search and abstraction of data.
Declarations
This article has been published as part of Reproductive Health Volume 11 Supplement 2, 2014: Quality of Care in Maternal and Child Health. The full contents of the supplement are available online at http://www.reproductive-health-journal.com/supplements/11/S2.
Authors' Affiliations
(1)
Division of Women & Child Health, Aga Khan University, Karachi, Pakistan
(2)
Program for Global Pediatric Research, Hospital For Sick Children, Toronto
Copyright
© Das et al; licensee BioMed Central Ltd. 2014
This article is published under license to BioMed Central Ltd. This is an Open Access article distributed under the terms of the Creative Commons Attribution License (http://creativecommons.org/licenses/by/4.0), which permits unrestricted use, distribution, and reproduction in any medium, provided the original work is properly cited. The Creative Commons Public Domain Dedication waiver (http://creativecommons.org/publicdomain/zero/1.0/) applies to the data made available in this article, unless otherwise stated.